Seattle; Day 5
I tooled around for a little while longer, but unfortunately, in the late afternoon; the weather which had been so cooperative recently; decided to take a turn for the worse. It become very cold; so I headed back to the hotel to wait for Mr. Man to finish up his work day so that we could go grab some dinner.
For Dinner, we went to a place over in Belltown called Marrakesh. It's a Moroccan restaurant. Now, let me confess; there is almost no dish I love more in the world than good Bastilla. Hell, even mediocre Bastilla is preferable to no Bastilla. I'm a huge fan of Moroccan food in general though, so I was really looking forward to dinner.
Moroccan restaurants are fun because they are so full of interesting atmosphere, such as low tables and cushions on the floor, fabric covered walls, etc…
The restaurant also provided entertainment in the form of a Belly Dancer. She was pretty good.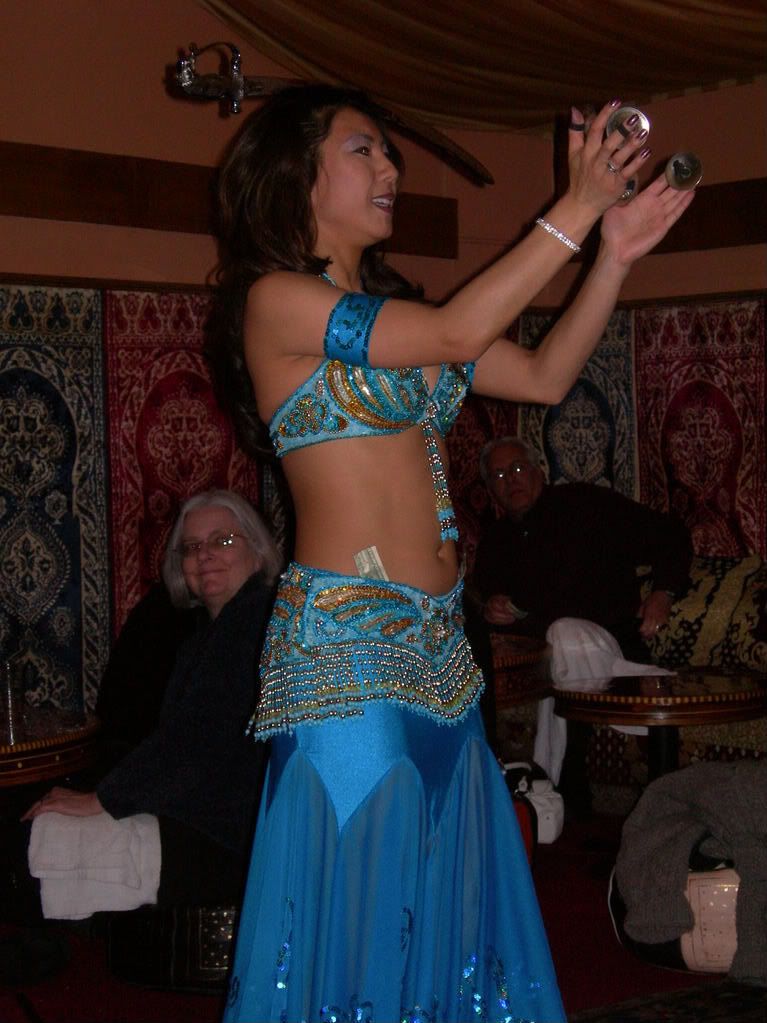 Unfortunately, the food was not as good as one could have hoped, atleast the entree wasn't. Almost everything EXCEPT the entree was yummy. Since dinner is a Prie Fixe of five courses, it included everything – a soup, salad, appetizer, entree and desert. The soup and salad were very good. Unfortunately, the Bastilla; the highlight of any moroccan meal for me, was served only moderately warm. It was still good, but I was left with the distinct impression that it had been made up ahead of time and merely warmed up for serving. We both ordered the Brochette Marrakesh for our entrees, which is lamb kabobs that have been marinated and then grilled. My lamb was okay; if a teeny tiny bit over done. Mr. Man's however, was tough and overcooked.
Even worse though, was the rice dish that was served with our lamb. Normally, moroccan dishes are served with couscous, so from the start we were like "Uh, rice? Ick." But, okay… let's taste it. Bleh. Let's not. lol. The rice was blaaaaaaaaand and dry. And the vegetables in the rice looked like the standard pack of frozen mixed vegetables you'd find at any grocer. Even taking in to account that overcooked meat is icky, the rice was still the least appetizing thing we were served. Dessert was some sort of sticky cake like substance, that both Mr. Man and I have determined to be a fairly bland, tasteless cake-like substance; soaked in a sugar-syrup. It was okay, but I think I could stand not ever having it again.
Anyhow, although the restaurant was a teeny bit of a bust, we still had a good time, although to be honest, that was mostly due to the company, and not the food or service. :-/