Seattle; Day 3
So; I had to return the rental car from yesterday at noon today. Before I did though, I took the opportunity to run out and pick up a new suitcase and a rolling laptop bag; so that we wouldn't have to juggle two bags on the way back with the laptops. After all that running around though, I turned in the rental car and then asked the rental car shuttle service to take me to Ballard for a little local-flavor exploration. Fortunately, the weather was absolutely stunning today. Lots of sun and clear skies. I couldn't believe my luck. Unfortunately, many of the shops and business were closed on mondays (meh!), but there were a few interesting places to explore.
I stopped in Archie McPhee's and explored for a little while, which was interesting. There were so many odd things that I would never have thought would be in a regular store.
A little later I found a store called Dandelion Botanical Co. where I picked up a bar of spiced hand made soap that smells absolutely delish and a couple o little mermaid figures that were made by a local artist. I'm trying to make it a point to (mostly) buy things produced locally.
After Ballard, I took my first trip on the Seattle Mass-transit, taking bus number 17 to the Fremont Bridge and then walking across to look around in Fremont.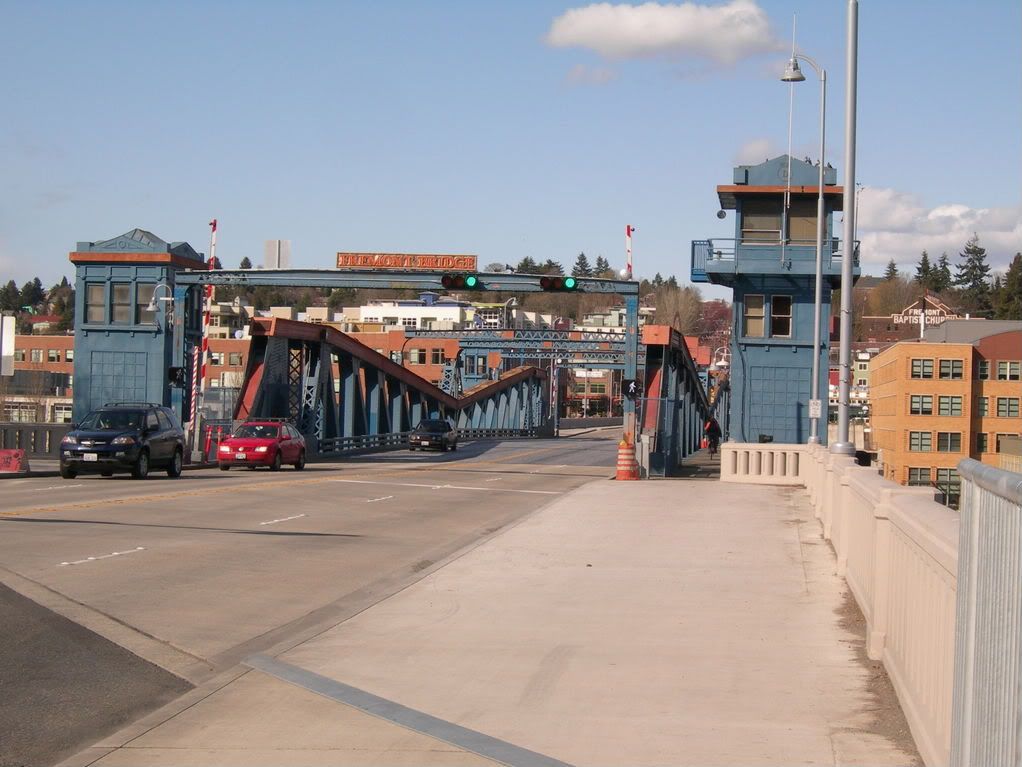 After all the walking around earlier, I was really wanting some espresso. Now, I know that Seattle is the Starbucks capitol and all, but I got tell ya; I got a really big warm fuzzy seeing a little slice of home in the form of a Peet's Coffee just on the other side of the Fremont Bridge. Starbucks is okay, I guess but honestly; Peet's is better.
I walked around some in Fremont, and found a really neat gallery called Frank and Dunya. Nothing really jumped out and said 'take me home', but it was fun nonetheless. It was about time for Mr. Man to finish up at work by then though, so I decided to head back to Pioneer Square and meet him to figure out what we were going to do this evening.
Since the weather seemed to be holding warm, pleasant and clear, we decided that it was a perfect time to go to the Space Needle. As we were walking up I managed to get this great perspective shot of the Needle.
When we got to the top, we were treated to some fabulous clear views of the city; some of which I'll try to post later; but here's a nice one of us with the city skyline.