My Valentines Day
Because we were so busy on Valentines day helping our daughter with last minute Science Fair project stuff, we didn't end up being able to celebrate on Valentines day. However, Don more than made up for it by planning an extraordinary evening out on Saturday.
We head out at around 5:00, which at first, I thought was way too early for dinner, since we'd had a late lunch, but it turned out that he had everything all planned to perfection. First, we drove down to Pacifica to this little Restaurant right on the waterfront called Ristorante Portofino We got there a few minutes before our reservation, so we looked around and snapped a few pictures.
These were taken in front of the Ristorante Portofino: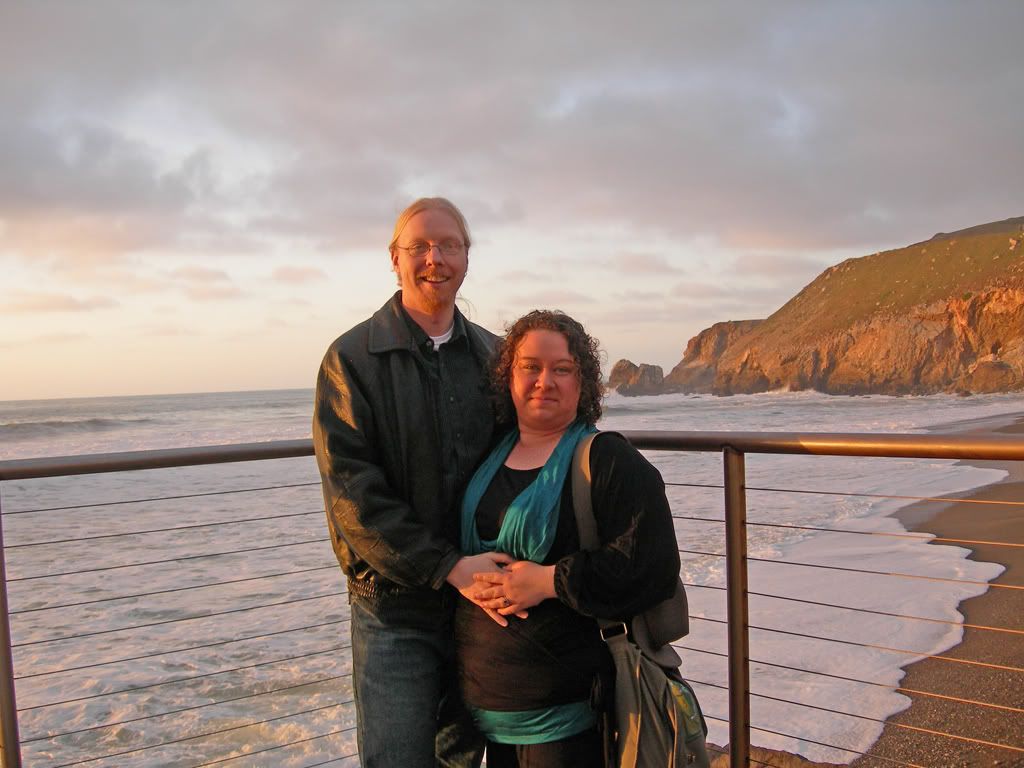 Our Reservation was for 5:30, which Don had planned out to coincide with the sunset (Scheduled for 5:49pm). We were seated and ordered in very short order, and then were able to enjoy this stunning sunset from our table.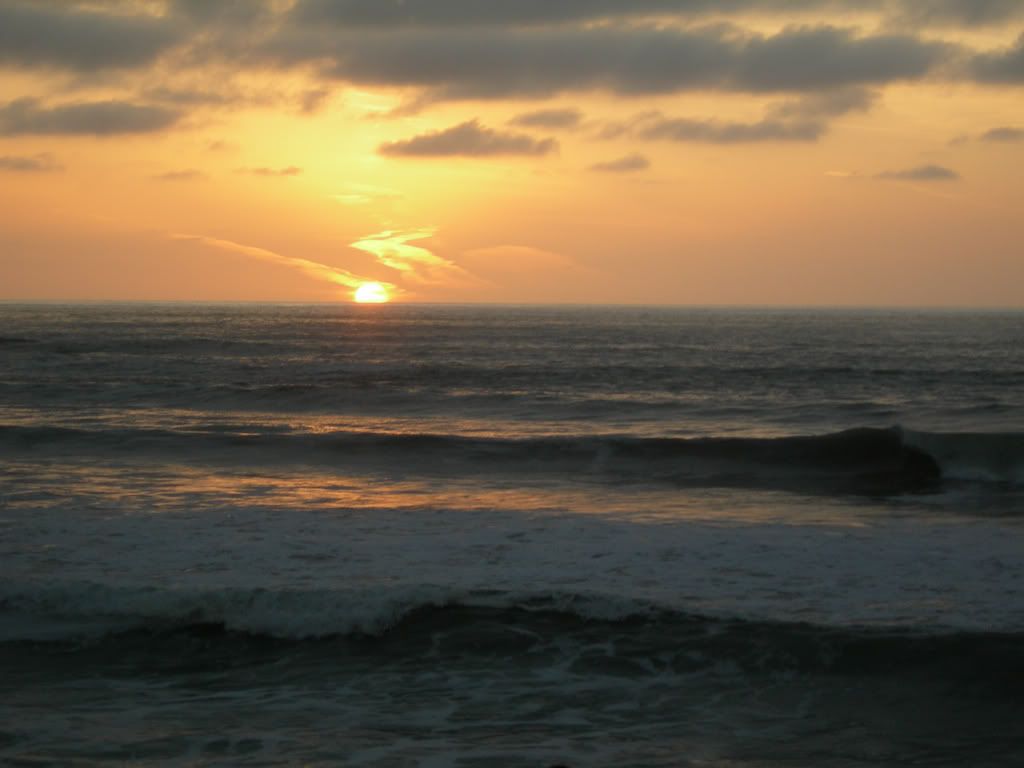 We ordered the Insalata Italiana to start with;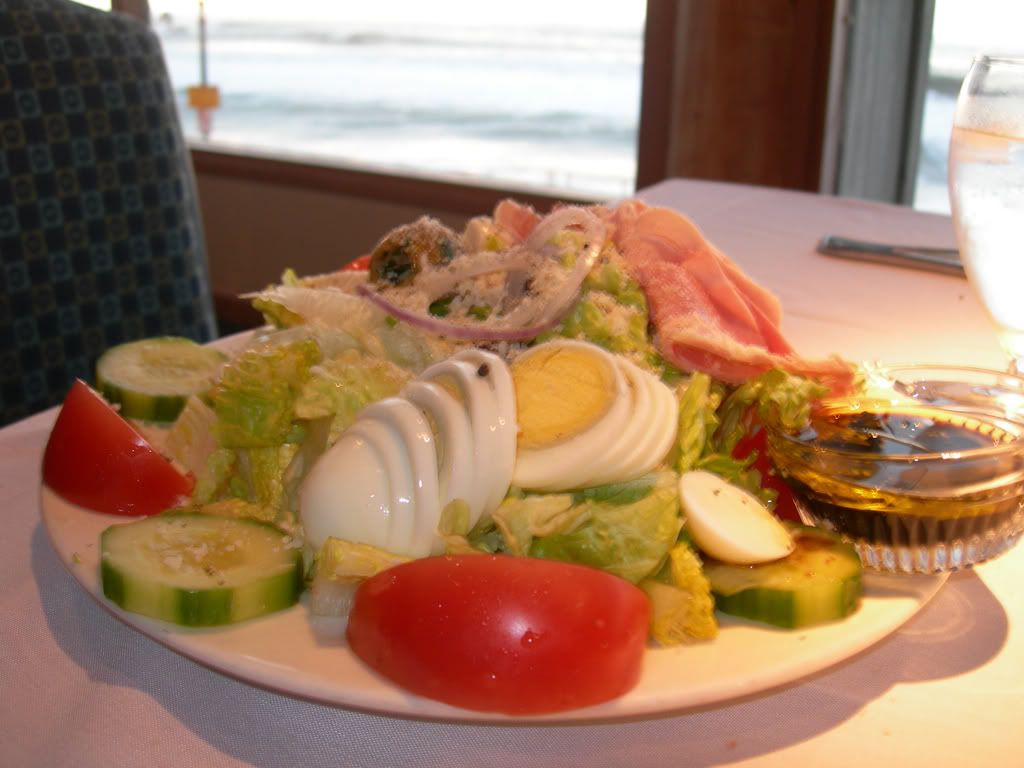 And for Entrees we had the Gnocchi Fondenti:
And the Veal Parmigiana:
Sadly, the food was not as good as the view, but it wasn't bad. The texture on the gnocchi could definitely have been better, although the sauce was very good. The Veal Parmigiana was ho-hum, although the pasta served with it was perfectly al-dente, which was nice. My favorite part however, was that itty bitty side of Spinach that was served with it. It was garlicky and yuuuuummmmay. Overall they were a 3.75 on a scale of 1-5. They got a 4.5 for view, but only a 3 for food and service. So I'd recommend them, but with reservations.
After dinner, we headed back to Downtown San Francisco to Great American Music Hall. We really lucked out, too – finding a fabulous parking spot directly across the street from the Venue. There we saw Sleepytime Gorilla Museum with Ovo and Estradasphere opening for them.
The first group to go on was Ovo and I gotta tell you… I hated them. lol Hate hate hated. Their music seemed mostly to consist of the woman screaming or grunting, or them intentionally creating feedback to drums. It was probably the most jarring noises I'd ever heard that were intentionally made with the intent of providing musically entertainment. The drummer was good – really good. If it'd just been him drumming, I probably would have enjoyed them. One interesting (interesting re: offputting in a nails on chalkboard sort of way) was that at one point, the woman took one of her dreadlocks and a violin bow and 'played' her hair. > . < It made my skin crawl.
The second group to play was Estradasphere. They were a very talented group of people. Their music was sort of folksy meets rock, and I really enjoyed it. It wasn't exactly my style, but it was fun to listen to. The one downside to their music, and probably the reason I didn't care for it more, was that they did not really have many songs that had words. In fact, during their hour long performance, I think they had two. Now, I know that good music doesn't have to have music, but in all honesty, theirs I think would have been well complemented by some lively words.
Then we get to the headliner, Sleepytime Gorilla Museum. They were quite an interesting show as well, although in a different way. Some of their music was very primal and dark, and some folksy and lighthearted. They had a lot of new sounds, which is likely due to the fact that several of their instruments are handmade. Their music is actually kind of difficult to describe, to be honest – but it was good enough that I am actually considering buying some of their music. Except that I don't think I'd listen to it. lol
You might think from reading this that I didn't enjoy the show, but nothing could be further from the truth. They were all very talented musicians (with the possible exception of yowling dreadlock girl), and it was definitely a unique experience, and it makes me want to try other new events. By far my best Valentines Day to date.